4 Great Reasons to Buy from US
Kyota Kenko Zero Gravity 4D Space-Saving L-track Reclining Massage Chair M673
Save

$1,000.00
Save

$1,000.00
Original price
$6,999.00
-
Original price
$6,999.00
Free 4 Year Warranty

Free Shipping on this Order!

No Sales Tax Outside WY

Ships From US Warehouse

We are Veteran Owned!

Ships UPS/FedEx Ground
Live easy and live better with the Kyota Kenko M673 Massage Chair. Designed to give you the best massage possible, its 3D/4D massage mechanism allows you to experience the benefits of a personal masseuse without having to leave your home. It is integrated with heating modules to soothe and loosen those tight muscles.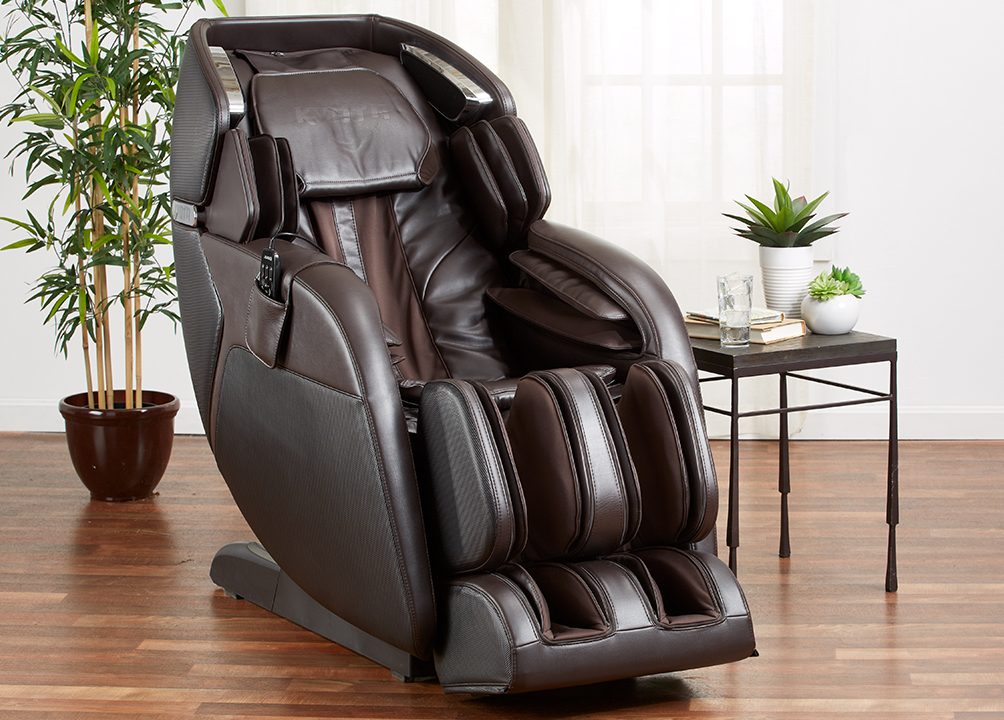 ---
Simplify Your Daily Wellness Routine
3D/4D Back Massage Mechanism
A 3D/4D back and gluteus massage uses a 3D mechanism that moves up and down, left and right, in and out (intensity), and adds a fourth dimension of variable speed on these movements, to mimic deep tissue massage of  human hands.
Truefit™ Body Scanning
Special technology allows the chair to pinpoint the user's size and shape, providing a customized massage specific to them.
Weightless Zero Gravity Recline
Zero gravity positioning elevates your feet above your heart, relieves pressure on your spine, and improves circulation. This allows the spine to decompress and provides a sense of weightlessness to aid in the therapeutic benefits of the massage chair.
Zero Wall Fit™ Space-Saving Technology
By sliding the chair forward while reclining, this feature allows the amount of space required between the chair and the wall to be just a few inches. Chairs without this feature must be placed far away from the wall taking up much more space in the room.
Extra Long Calf Coverage
The longest calf massage available combines air massage and node pressure point relief from the knees down to your feet. Circulation enhancement for pressure & tension relief.
Targeted Arm 
Arm compression relieves arm, wrist, and hand tension while enhancing circulation. Relax & enjoy the sensation of human hands relieving stress throughout your tired muscles.
Airbag Compression 
Airbags are located throughout the chair that inflate and deflate to provide a compression sensation on the muscles that feel like real human hands. Each chamber within an airbag is called an air cell.
Triple Foot Roller Total Sole Reflexology
This feature has the broadest coverage of the sole allowed in a massage chair today, utilizing three Shiatsu rollers per foot attending to the vital pressure points on the feet linked to other parts of the body.
Lumbar Heat
Heating modules located in the lower back of the chair provide a soothing sensation and loosen your muscles to better prepare your body for the massage.
Active Massage Regions
Neck & Shoulders, Upper Back, Lower Back, Legs & Feet, Arms
Ideal Height and Weight Range
Intensity
---
 Product Specifications
Weight: 292 lbs.
Upright

 

(LxWxH) 62" X 29" X 48.50"
Reclined

 

(LxWxH) 72" X 29" X 38"
---
 Downloads
---
---
What makes Kyota chairs better than others? 
Kyota's mission is to offer a few clear choices of premium massage chairs at affordable prices. Each chair is engineered and built in Asia, where massage is highly regarded and understood. If you're looking for an easy online massage chair shopping experience, Kyota is the answer!
What Kyota chair is best for you? 
There are several factors to take into account when selecting a massage chair::
Reason for purchasing a massage chair: Is it to address a specific pain point? Reduce stress? Overall wellness?

What kind of massage experience are you looking for?

What level of massage intensity would you prefer (e.g., gentle vs. vigorous)?

Height and weight of user(s) who will be using the chair

Where the chair will be going: Home or office? How much space is available?

Ideal price point
---
 The Kyota Promise: 4 Year Residential Limited Warranty
Unlimited USA-based customer & technical support
4 Year structural framework warranty
No-cost replacement on covered parts for 2 years
Complete Care/No-cost parts & labor (in-home, if necessary) for 1 year
For In-Home service, Kyota will arrange all covered parts deemed necessary, to be sent to the consumer and, if necessary, an authorized service provider to repair the product at the customer's residence, at no charge to the customer. If a particular part is no longer manufactured, Kyota may replace your product with a similar product. Under no circumstances shall the retail replacement value exceed the original net price paid for the product. In the event you choose not to accept a replacement for your product, Kyota is no longer responsible for making repairs under the warranty coverage.
For any repairs needed during the 3-year parts warranty coverage, Kyota will provide covered parts at no cost; however, the consumer is responsible for any and all shipping, duties, and brokerage fees on parts not covered by this warranty or covered but outside of the coverage period. Structure warranty is limited to the steel and steel-welded parts of the frame. If a replacement is issued under the Parts or Structure warranty period, the consumer is responsible for shipping, duties, and brokerage fees related to the replacement. Kyota, at its sole discretion, will repair or replace any defective part within a reasonable time frame. Field Service is only available in the United States. Field Service requires pre-approval and, if necessary, must be performed by Kyota-authorized field service personnel to maintain warranty coverage.
---
Warranty Exclusions
Warranties do not cover any loss or damage resulting from improper installation; unauthorized repairs; use in a commercial or corporate setting; alterations or modifications of original condition; improper use of electrical/power supply; loss of power; electrical disturbances and power surges; dropped product, including but not limited to remote controls; a malfunction or damage resulting from improper use or unreasonable use or maintenance; failure to follow operating instructions; transportation damage; theft; abuse; misuse; neglect; vandalism; or environmental conditions (fire, floods, rust, corrosion, sand, dirt, windstorm, hail, earthquake, or exposure to weather conditions); loss of use during the period the product is at a repair facility or otherwise awaiting parts or repair; and products purchased from unauthorized dealers. Damage incurred due to shipping and handling does not constitute a defect under this warranty. Softening/ hardening of foams and filling composites in pillows and pads do not constitute a defect under this warranty as those items naturally change with use. Fading, wear, and pilling of fabrics do not constitute a defect under this warranty as those conditions naturally occur with fabrics. Natural markings and grain and dye variations in leather do not constitute a defect under this warranty. Failures of attach points, such as but not limited to: stitching, Velcro, and zippers, do not constitute a defect under this warranty.
To initiate a Kyota Warranty claim, simply call our Customer Support Team at 603-910-5333.