4 Great Reasons to Buy from US
Kyota Yutaka Certified Pre-Owned 4D Massage Chair M898
Save up to

$8,500.00
Save

$7,000.00
Original price
$11,999.00
Original price
$11,999.00
-
Original price
$11,999.00
Original price
$11,999.00
Free 4 Year Warranty

Free Shipping on this Order!

Ships From US Warehouse

Ships LTL/Freight Curbside Delivery

We are Veteran Owned!

Compare to $11999.00 Brand New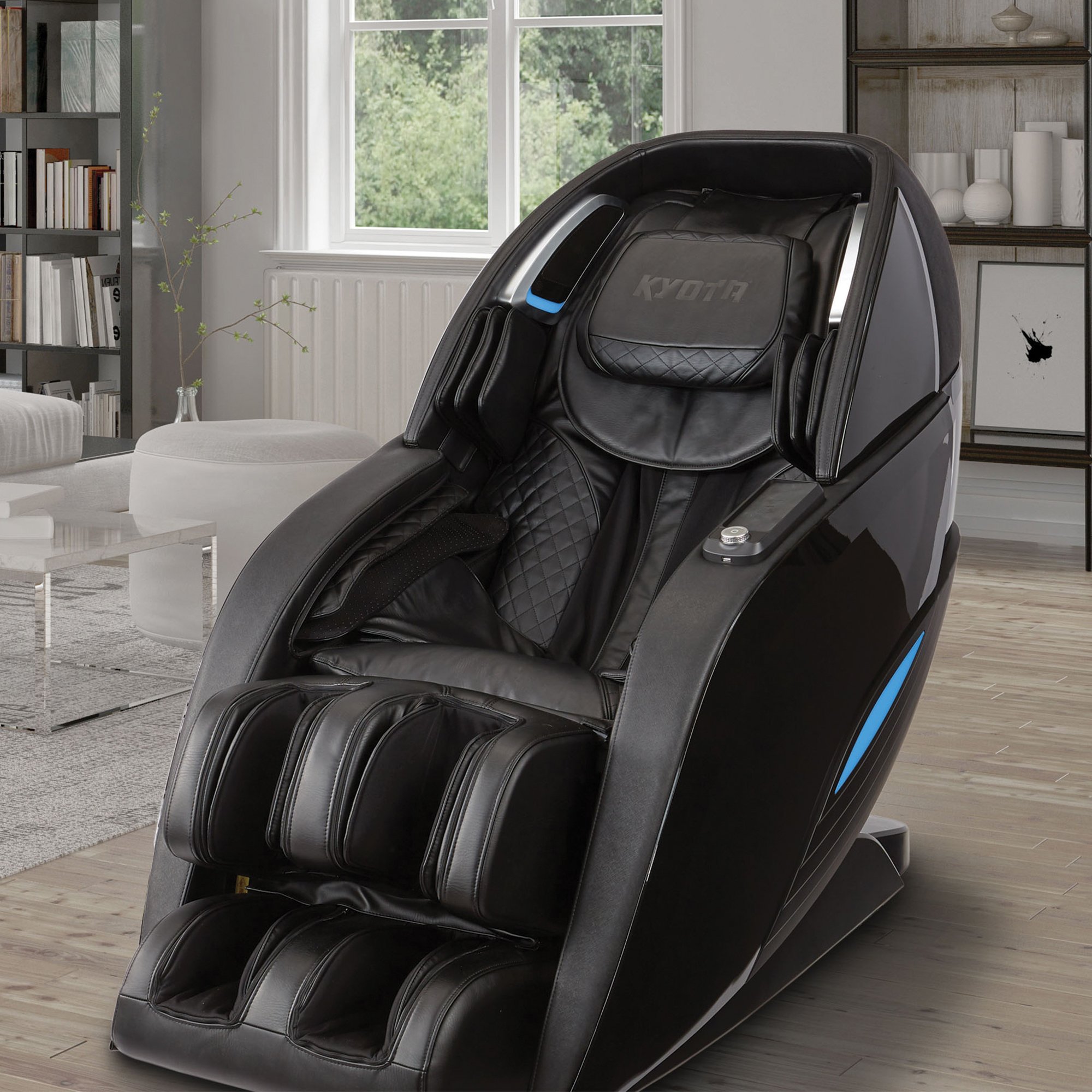 Immerse yourself in an experience like no other with Kyota Yutaka's 4D Massage Chair. It is crafted with the best materials and state-of-the-art technology, to deliver silky-smooth therapeutic massage. Packed with incredible technology like chromotherapy light programs, nature sounds thru Bluetooth speakers, air ionizer and wireless charging pad for your phone, Yutaka 4D is the best way to rejuvenate your body and mind. 
Get your hands on one of these amazing chairs at an extremely discounted price! Every Kyota Yutaka Certified Pre-Owned Massage Chair has gone through a strict 37-point inspection and is guaranteed to look, feel and function as good as brand new.
All Kyota Certified Pre-Owned Chairs are guaranteed to be in perfect working condition. Plus, they all come with a 1yr labor, 2yr parts, 4yr frame warranty, just like a new chair would! 
If you would like more in-depth information on the specific chair you would be receiving please email us at support@cardionationusa.com.  We can get back to you on the history of the chair and provide pictures of the chair you would be receiving. Just ask and let us know which model and color you are interested in! Certified Pre-Owned is the Smart and Affordable way to buy your massage chair with confidence. 
---
Simplify Your Daily Wellness Routine
4D Back and Glutes Mechanism
4D back and glutes mechanism mimics deep tissue massage of human hands. It allows the user to adjust the width, length, and depth (intensity) for a more personalized message.
Utilizes triple shiatsu rollers per foot along with the squeeze of air compression to provide reflexology relief throughout the body.
The 49" L-Track pushes the chair's quad rollers from the neck to upper thighs, ensuring you receive a full spa-quality massage.
Chromotherapy Programs and LED Mood Lighting
Chromotherapy uses the color spectrum to help balance one's physical, emotional, spiritual, and mental energy. Special light sequences help you wake up or wind down and can be combined with the perfect massage.
The Yutaka's Bluetooth speakers feature an integrated negative ion generator to promote cleaner air intake so you can breathe deeply, melt away stress and rejuvenate your mind, body, and spirit.
Premium Leather-backed Intuitive Remote Control
Easy to use, color, menu-driven remote. Select from 12 auto programs or use our customizable manual massage programs. Stores away in the side pouch for easy access.
Zero Wall Space-Saving Technology
This space-saving technology affords easy placement of your Yutaka 4D massage chair, only requiring 2" of clearance from the wall to recline.
Automatic Footrest Extension
Advanced sensors auto-size the leg extension for the perfect fit every time. Customized for everybody.
Zero gravity positioning elevates your feet above your heart, which allows for improving circulation providing a sense of weightlessness, and maximizes the effect of massage therapies.
Active Massage Regions
Neck & Shoulders, Upper Back, Lower Back, Legs & Feet, Arms

Ideal Height Range & Weight
 Intensity 
What other features does Yutaka offer?
4D Massage Technology

5 Massage Techniques Mimic Human Hands

49" L-Track

360° 4-Node Plus Massage

12 Auto Programs

Zero Gravity

Rhythm Technique

Total Sole Reflexology

Spinal Correction and Waist Twist

Zero Wall Space-Saving Technology

Air Ionizer

Premium Bluetooth Speakers

Dual Zone Heat

Truefit Body Scanning

Complete Calf kneading + Oscillation

TrueFit Footrest Extension

Chromotherapy Lights

Four Wheel Massage Mechanism

Airbag Compression 

MyMassage Memory Programs

USB Charging Station
---
 Product Specifications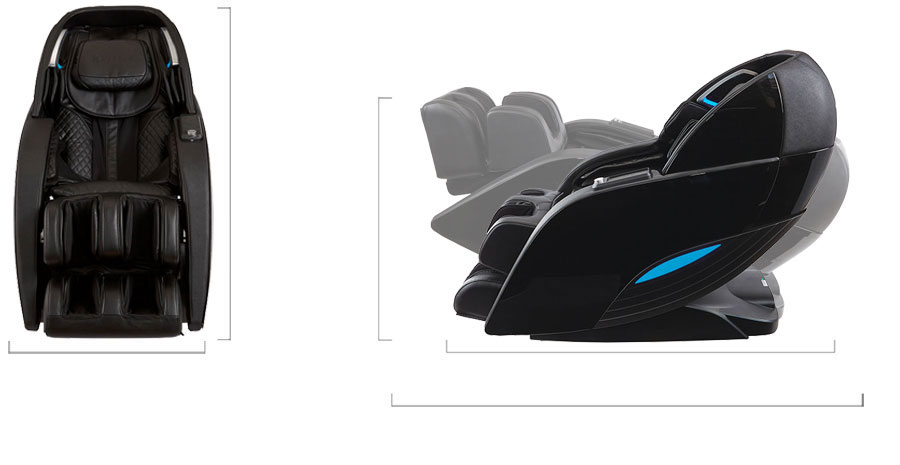 ---
---
 Downloads
---
What makes Kyota chairs better than others? 
Kyota's mission is to offer a few clear choices of premium massage chairs at affordable prices. Each chair is engineered and built in Asia, where massage is highly regarded and understood. If you're looking for an easy online massage chair shopping experience, Kyota is the answer!
What Kyota chair is best for you? 
There are several factors to take into account when selecting a massage chair::
Reason for purchasing a massage chair: Is it to address a specific pain point? Reduce stress? Overall wellness?

What kind of massage experience are you looking for?

What level of massage intensity would you prefer (e.g., gentle vs. vigorous)?

Height and weight of user(s) who will be using the chair

Where the chair will be going: Home or office? How much space is available?

Ideal price point
---
 The Kyota Promise: 4 Year Residential Limited Warranty
Unlimited USA-based customer & technical support
4 Year structural framework warranty
No-cost replacement on covered parts for 2 years
Complete Care/No-cost parts & labor (in-home, if necessary) for 1 year
For In-Home service, Kyota will arrange all covered parts deemed necessary, to be sent to the consumer and, if necessary, an authorized service provider to repair the product at the customer's residence, at no charge to the customer. If a particular part is no longer manufactured, Kyota may replace your product with a similar product. Under no circumstances shall the retail replacement value exceed the original net price paid for the product. In the event you choose not to accept a replacement for your product, Kyota is no longer responsible for making repairs under the warranty coverage.
For any repairs needed during the 3-year parts warranty coverage, Kyota will provide covered parts at no cost; however, the consumer is responsible for any and all shipping, duties, and brokerage fees on parts not covered by this warranty or covered but outside of the coverage period. Structure warranty is limited to the steel and steel-welded parts of the frame. If a replacement is issued under the Parts or Structure warranty period, the consumer is responsible for shipping, duties, and brokerage fees related to the replacement. Kyota, at its sole discretion, will repair or replace any defective part within a reasonable time frame. Field Service is only available in the United States. Field Service requires pre-approval and, if necessary, must be performed by Kyota-authorized field service personnel to maintain warranty coverage.
---
Warranty Exclusions
Warranties do not cover any loss or damage resulting from improper installation; unauthorized repairs; use in a commercial or corporate setting; alterations or modifications of original condition; improper use of electrical/power supply; loss of power; electrical disturbances and power surges; dropped product, including but not limited to remote controls; a malfunction or damage resulting from improper use or unreasonable use or maintenance; failure to follow operating instructions; transportation damage; theft; abuse; misuse; neglect; vandalism; or environmental conditions (fire, floods, rust, corrosion, sand, dirt, windstorm, hail, earthquake, or exposure to weather conditions); loss of use during the period the product is at a repair facility or otherwise awaiting parts or repair; and products purchased from unauthorized dealers. Damage incurred due to shipping and handling does not constitute a defect under this warranty. Softening/ hardening of foams and filling composites in pillows and pads do not constitute a defect under this warranty as those items naturally change with use. Fading, wear, and pilling of fabrics do not constitute a defect under this warranty as those conditions naturally occur with fabrics. Natural markings and grain and dye variations in leather do not constitute a defect under this warranty. Failures of attach points, such as but not limited to: stitching, Velcro, and zippers, do not constitute a defect under this warranty.
To initiate a Kyota Warranty claim, simply call our Customer Support Team at 603-910-5333.