4 Great Reasons to Buy from US
Kyota Kokoro M888 4D Zero Gravity Massage Chair
Save

$4,000.00
Save

$4,000.00
Original price
$12,999.00
Original price
$12,999.00
-
Original price
$12,999.00
Original price
$12,999.00
Free 4 Year Warranty

Free Shipping on this Order!

Ships From US Warehouse

We are Veteran Owned!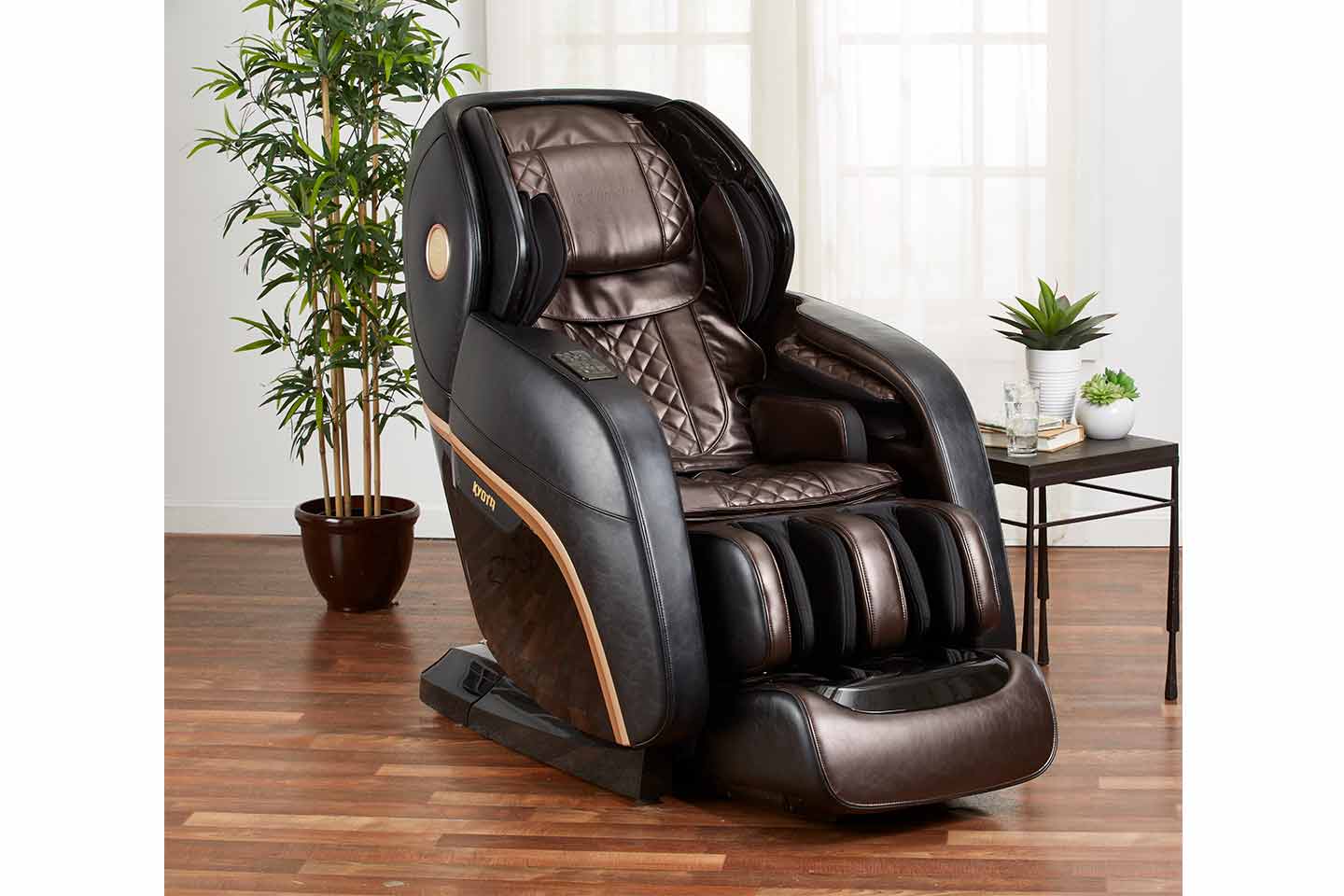 Kyota Kokoro's M888 Massage Chair is designed to provide lasting comfort through advanced massage techniques. It is crafted with precision, the finest materials and an advanced 3D/4D Back mechanism technology to deliver ultimate relaxation and improve overall health.
Kokoro uses an exclusive M888 J-Track massage that combines the best of S and L-tracks with spinal decompression and glute massage.
J-Track (also known as Flex Track) delivers both comprehensive coverage and stretching capabilities, combining the benefits of an L-track with those of an S-track.
For an even better experience, its therapeutic foot massage is complete with cutting-edge variable speed reflexology rollers, complete heat, and total foot compression massage. The Kokoro is everything you're looking for in a massage chair!
---
Simplify Your Daily Wellness Routine
Kyota Kokoro M888 Features
4D Back Mechanism Technology

The most advanced massage technology available combines dual in-out 3d motions, with sweeping left-right and up-down motions, to create human hand-like deep-tissue massage that is smooth and fluid. 


Exclusive M888 J-track Massage

S tracks delivered spinal decompression. L tracks provided glute massage however they lost decompression capabilities. The unique J track combines the best of both worlds with spinal decompression and glute massage. Look no further, this is the ultimate massage chair.


Enclosed Foot Reflexology

An Incredible experience that your feet will thank you for. This therapeutic foot massage is complete with cutting edge variable speed reflexology rollers, complete heat, and total foot compression massage. Relaxation at its finest to bring you back! 

Auto Size Leg Extension

Advanced sensors auto size the leg extension for the perfect fit, every time. For whomever sits for their rejuvenation experience they will receive a massage customized just for them. 

Bluetooth Speakers with IntersoundTM Technology

Use the M888's premium Bluetooth speakers to create the ultimate relaxation experience with your personalized spa & meditation music or your favorite playlist. Let the M888 become your "place away" zone to melt away stress and rejuvenate your mind, body, and spirit.

Intelligent Voice Command + Control


The M888's exclusive voice system allows you to use the smart voice control system to control your chair. No need to reach for the remote, just sit back, relax and tell your chair where to take you!

Wireless Color Menu Rechargeable Remote

The M888 is the only chair available with a wireless remote. Fully control all aspects of your massage with this state of the art controller. Now relax, get comfortable and enjoy a therapeutic massage as it melts stress, and revitalizes your body without any wires getting in your way!

12 Auto Programs

For ease of operation utilize arm controls for auto programs and chair position adjustments. No more fumbling around for the remote when you need to get up or make adjustments to your massage.
Active Massage Regions
Neck & Shoulders, Upper Back, Lower Back, Legs & Feet, Arms

Ideal Height Range & Weight
 Intensity
What other features does Kokoro offer?
Tri-Zone Heat 

Full-Body Scanning Technology 

Zero Wall Technology 

12 Auto Programs

Customizable Massage

Integrated Air Ionizer 

Complete Calf™ kneading + Oscillation 

Arm and Hip Air Compression

Chromotherapy mood LED lighting

Shoulder Air Compression

Three Zero Gravity Positions

Slide Forward Space-Saving Technology 

Tri-zone Deep Penetrating Heat
---
 Product Specifications
Weight: 330 lbs.
Upright Chair Dimensions: 

34"w x 41"l x 51"h

Reclined Chair Dimensions: 

34"w x 63"l x 41"h
---
 Downloads
---
What makes Kyota chairs better than others? 
Kyota's mission is to offer a few clear choices of premium massage chairs at affordable prices. Each chair is engineered and built in Asia, where massage is highly regarded and understood. If you're looking for an easy online massage chair shopping experience, Kyota is the answer!
What Kyota chair is best for you? 
There are several factors to take into account when selecting a massage chair::
Reason for purchasing a massage chair: Is it to address a specific pain point? Reduce stress? Overall wellness?

What kind of massage experience are you looking for?

What level of massage intensity would you prefer (e.g., gentle vs. vigorous)?

Height and weight of user(s) who will be using the chair

Where the chair will be going: Home or office? How much space is available?

Ideal price point
---
 The Kyota Promise: 4 Year Residential Limited Warranty
Unlimited USA-based customer & technical support
4 Year structural framework warranty
No-cost replacement on covered parts for 2 years
Complete Care/No-cost parts & labor (in-home, if necessary) for 1 year
For In-Home service, Kyota will arrange all covered parts deemed necessary, to be sent to the consumer and, if necessary, an authorized service provider to repair the product at the customer's residence, at no charge to the customer. If a particular part is no longer manufactured, Kyota may replace your product with a similar product. Under no circumstances shall the retail replacement value exceed the original net price paid for the product. In the event you choose not to accept a replacement for your product, Kyota is no longer responsible for making repairs under the warranty coverage.
For any repairs needed during the 3-year parts warranty coverage, Kyota will provide covered parts at no cost; however, the consumer is responsible for any and all shipping, duties, and brokerage fees on parts not covered by this warranty or covered but outside of the coverage period. Structure warranty is limited to the steel and steel-welded parts of the frame. If a replacement is issued under the Parts or Structure warranty period, the consumer is responsible for shipping, duties, and brokerage fees related to the replacement. Kyota, at its sole discretion, will repair or replace any defective part within a reasonable time frame. Field Service is only available in the United States. Field Service requires pre-approval and, if necessary, must be performed by Kyota-authorized field service personnel to maintain warranty coverage.
---
To initiate a Kyota Warranty claim, simply call 603-910-5333.