4 Great Reasons to Buy from US
Body Solid Endurance Folding Treadmill T25
Sold out
Original price
$2,271.00
-
Original price
$2,271.00
Ships From US Warehouse

Ships in 7-14 Business Days

Ships LTL/Freight Curbside Delivery

We are Veteran Owned!
Body Solid Endurance Folding Treadmill T25
You're busy. You have a lot of things to do and not a lot of time to do them. But, that doesn't mean you can't live a fit and healthy life. With Body Solid's Endurance Folding Treadmill T25, you'll never have to sacrifice your fitness goals again. It combines quality, convenience, and state-of-the-art design to create one of the top home-focused treadmills on the market today. This treadmill is compact and quickly folds, making it easy to store and transport so you can instantly get started on your exercise. And, with its heavy-duty frame, it can withstand heavy usage and handle up to 275 lbs of weight - making it the perfect choice for both beginner and hardcore treadmillers!
---
Take your workouts to the next level with these Features
Built with a 2 HP continuous duty and 4 HP peak motor, the T25 Treadmill has a speed range of 1-10 mph while also featuring 0-12% elevation and incline settings for intense, calorie-burning workouts.
Designed for users with space restrictions, the Endurance by Body-Solid T25 Treadmill quickly and easily folds while also offering transport wheels to allow expedient movement. 
The T25 Treadmill is constructed with large 2" diameter sealed-bearing rollers, a wide 20.5"x57" running space and a max user weight of 275 lbs. 
Crafted with top-of-the-line materials and precise, accurate welding, the T25 Treadmill will withstand heavy use in home, garage or basement gym settings. 
User-friendly features like easily-adjustable quick keys for speed and elevation, and a

n interactive LED display shows users time, distance, pulse, speed and incline and includes audio inputs, built-in speakers and a convenient cell phone holder. 
Integrated heart rate controls and monitors ensure users will have all the information they'll need for an optimal calorie-burning workout. The T25 also features built-in speakers and 3.5mm audio input. Finally, a large stop button with an emergency stop safety key adds safety and peace of mind to any workout.
---
 Exercise Programs
T25 offers sixteen exercise programs (QUICK-START, WEIGHT LOSS, MARATHON TRAINING, TIME COUNTDOWN, DISTANCE COUNTDOWN, CALORIES COUNTDOWN, WALK, JOG, HILL, RANDOM, CARDIO, RACE, SPRINT, (3) HEART-RATE CONTROLLED, )
QUICK-START:
The user can make adjustment on speed and incline throughout the workout.
WEIGHT LOSS:
Workout time is 40 minutes. Speed cannot be change and increases at differernt intervals. Incline can be changed using the INCLINE buttons.
MARATON TRAINING:
Distance is set to 26.3 miles. Speed and Incline can be changed using SPEED and INCLINE buttons.
TIME COUNTDOWN:
Set custom TIME. During workout, SPEED and INCLINE can be changed using INCLINE & SPEED buttons.
DISTANCE COUNTDOWN:
Set custom DISTANCE. During workout, SPEED and INCLINE can be changed using INCLINE &
SPEED buttons.
P01-P08 are predetermined TIME/INTERVAL settings. Press INCLINE AND SPEED buttons to increase or decrease the TIME of each interval. The table below is the profile settings for each program (P01-P08)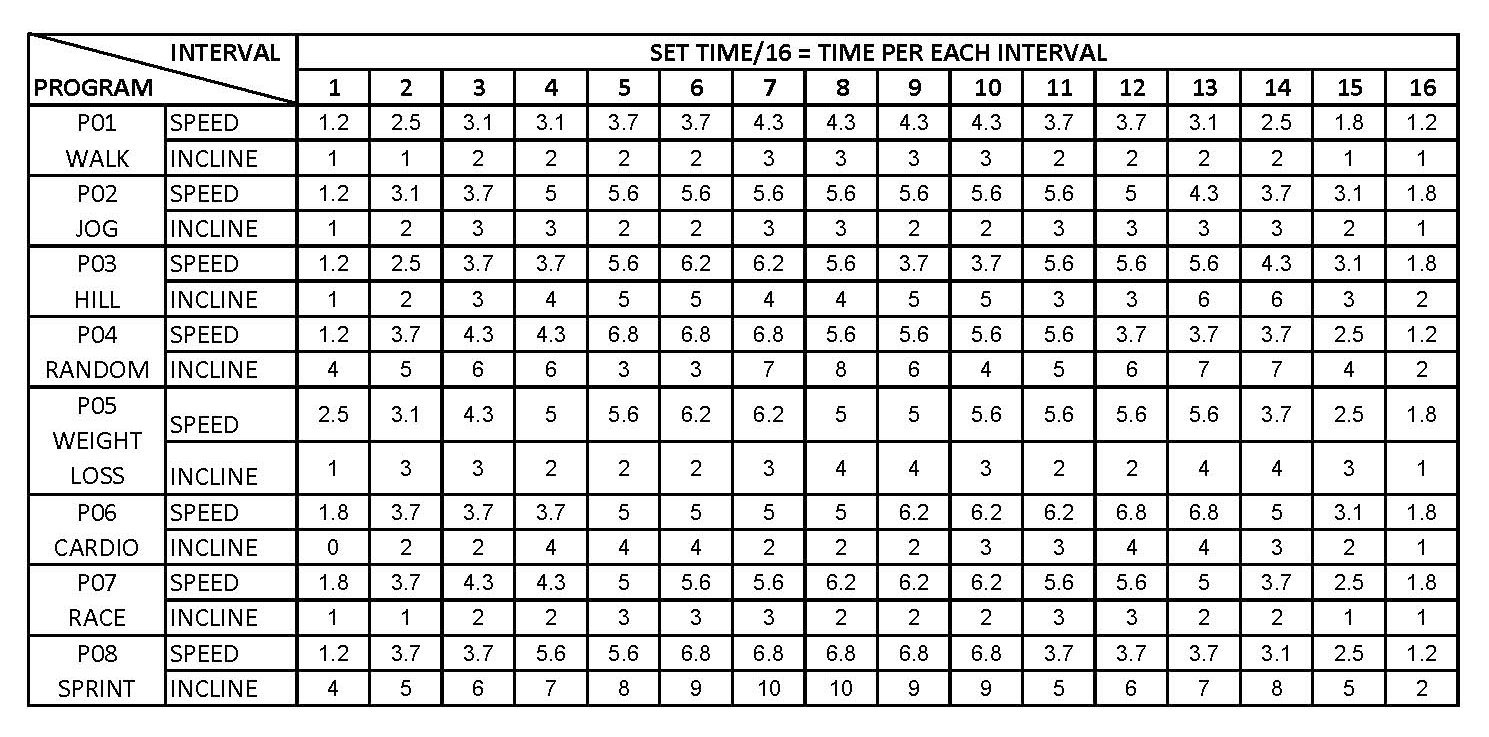 HP01 - HP03 are HEART RATE Speed Controlled settings based on age and Target Heart Rate. During workout, INCLINE & PEED can be change manually using INCLINE & SPEED buttons. But the Speed cannot exceed the maxinum speed limit.
HP02: Max Speed: 5.6 MPH
HP03: Max Speed: 6.2 MPH
---
 Product Specifications
2 HP continuous duty & 4 HP peak motor
1-10 mph speed range
0-12% elevation
Wide 20.5" x 57" running space
Max User Weight: 275 lbs. 
Weight: 260 lbs / 118 kg
Assembled Dimensions:: 76"L x 36"W x 57"H
Folded Dimensions: 50"L x 36"W x 64"H
---
 Downloads
---
 Watch the Endurance Folding Treadmill T25 in Action
---
 Warranty
ENDURANCE by Body-Solid warrants the In-Home Warranty as follows:
LIFETIME on Frame
5 YEARS on Parts
2 YEARS in Electronics
1 YEAR on Labor
6 MONTHS on Wear items (seat, brake pad, etc.)
This Limited Express Warranty applies only in the United States to products manufactured or distributed by Body-Solid, Inc. ("Body-Solid") under the ENDURANCE by Body-Solid brand name (hereinafter referred to as "Product").

Body-Solid warrants that the Product you have purchased for in-home use from Body-Solid or from an authorized Body-Solid reseller is free from defects in materials or workmanship under normal use during the warranty period.

Your sales receipt, showing the date of purchase of the Product, is your proof of the date of purchase.

This warranty extends only to you, the original purchaser. It is not transferable to anyone who subsequently purchases the Product from you.

It excludes expendable parts such as paint and finish.

This Warranty becomes VALID ONLY if the Product is assembled / installed according to the instructions / directions included with the Product.
For more information, see Body Solid Warranty here.