Massage Chair for Muscle Recovery: Which One is Right For You?
Recovery is key after a hard workout! Whether you lifted weights, played sports, or just worked up a sweat, your body needs time to heal and repair. That's where massage chairs come in - they provide essential post-workout massage benefits that can help relieve soreness and speed up muscle recovery.
But which massage chair is best for you, or for anyone who loves a good workout session?
This article will explore the different features of massage chairs and help you decide which one is right for you. Have fun reading and let the massage chair help you recover from your workouts!
Muscle Recovery
There's absolutely no feeling quite like the muscle soreness that occurs after a rigorous running or weight training session. Giving your muscles the care they need in-between workouts can help you move to the next level. Resting and eating the right food are the most common but effective ways to muscle recovery.
Massage therapy, studies show, is another great way to improve blood flow and reduce muscle fatigue. It helps you avoid injury, enhances your performance, and improves your overall health.
Whether you are someone who loves to train, wants to relax after a long day of work, or just escape the daily stress, massage has many benefits that can improve your health and well-being.
Post-Workout Massage Benefits
After a long day of physical activity, massage therapy is the perfect way to wind down, relieve tension and promote wellness.
Not only is massage good for your physical health, but is also proven to provide mental health benefits - like reducing stress and promoting relaxation.
Studies have shown that massage helps your body produce endorphins, dopamine, and serotonin -- the "feel-good" hormones -- that help calm nerves, lower stress, improve your focus and provide a good sleep.
How a Massage Chair Can Help: Features to Look Out For
Regular massage therapy is key to keeping your body healthy and in top shape. However, getting a massage can be a hassle for some, or too expensive if done on a regular basis.
One of the greatest benefits of a massage chair is that it provides access to a massage at any time of the day. A good chair mimics the human touch so that you get a deep tissue massage like you would with a professional massage therapist.
Not to mention, they come with a variety of features that can help you get relief in your whole body in the most effective and relaxing way.
Buying a massage chair is an investment. Therefore, it is important to do your research before purchasing one to make sure that you are getting your hard-earned money's worth.
To help you decide, we listed down some of the key features of the best massage chairs that will surely help you with your recovery after a day of training or working out.
3D/4D Massage
If you want a human-touch-like massage that is going to really get your muscles moving, then look for a massage chair that is built with a 3D or 4D Massage mechanism.
The 3D massage uses specially-designed rollers that are able to push out further and deeper into your body than traditional massage rollers.
Meanwhile, the 4D variable speed movements of the mechanism mimic human touch in their movement up and down, side to side, and in and out - delivering maximum penetration deep into muscle tissue, from your neck down to your glutes.
Reflexology / Foot Massage
A day or even an hour of training or workout can cause strain to your feet. Reflexology is a massage technique that uses pressure and massaging strokes to help relieve tension not just in the feet, but also in the ankles, calves, back, neck, head, and whole body.
Good massage chairs include single to triple rollers per foot that work on the target points on your sole for a complete body massage.
Calf Rollers and Oscillation Massage
This feature is what makes the best foot and calf massage available in massage chairs today, and is usually found only in premium chairs.
Although they tend to be expensive, chairs with these features provide great relaxation as they are integrated with calf rollers in the back and oscillation kneading on the sides.
So, if you are a runner and are looking to relieve pain and tension in the lower leg, this feature is definitely for you.
Zero Gravity
Zero gravity is a great way to reduce stress and tension while improving blood circulation throughout the body and spinal decompression as it puts your feet elevated slightly above the heart. It helps distribute your weight evenly, which can aid in relieving back pain and neck stiffness from a long day of training or weightlifting.
Auto-Programs
One of the great advantages of using auto-programs is that they allow you to customize your massage experience according to your mood, lifestyle, or pain level.
By selecting from specific target areas like low back and neck, extension programs, sports refresh, and working relief, you can be sure that you are getting the most suitable and effective treatment for your needs.
Adjustable Intensity
Massage is a great way to relax and de-stress. However, massages tend to be painful or ineffective if the intensity is not adjusted accordingly. Some days you might just want gentle pressure, while other times you might need a deep-tissue massage that packs a punch.
Most massage chairs come with adjustable intensity levels so you can customize your experience according to your needs.
Heat
Heat therapy can be an incredibly relaxing and invigorating experience, which drastically improves the massage experience. Not only is it warm and cozy, but the heat setting also loosens tight muscles and opens up your body to fully experience the benefits of massage.
Heat therapy helps with improving blood flow and loosening muscles, allowing them to become more flexible. This kind of relaxation allows deep-tissue massages for an overall better massage.
Massage Techniques
Kneading, tapping, and shiatsu are some of the most common massage styles that massage chairs offer. Some chairs are built with up to 6 or 7 massage techniques that you can explore or choose from. This allows you to better customize a massage that suits your pain level or preference for the day.
The Best Massage Chairs for Muscle Recovery
Kyota's Yosei M868 Massage Chair is a chair that does it all and covers all the important areas of the body. The Yosei uses an advanced 4D Back Mechanism technology that mimics the motions of an actual massage therapist for a smooth and fluid deep-tissue massage -- perfect for relieving back pain and muscle tension. It utilizes triple shiatsu foot rollers and kneading calf rollers to take care of your tired legs after an intense leg day or running.
This fantastic chair also takes your experience to the next level with its extra features such as the spinal correction and waist twist functions, chromotherapy lights, and premium Bluetooth speakers.
The Dynasty 4D Massage Chair sports more features than any chairs in Infinity's lineup. This state-of-the-art chair can target all your problem spots from your neck, back, legs, and even your palms. You can choose from its 6 massage techniques to suit what your body needs. 
On top of that, the Dynasty chair is as convenient as it gets. You can control it at your fingertips simply by downloading the app to your phone or tablet.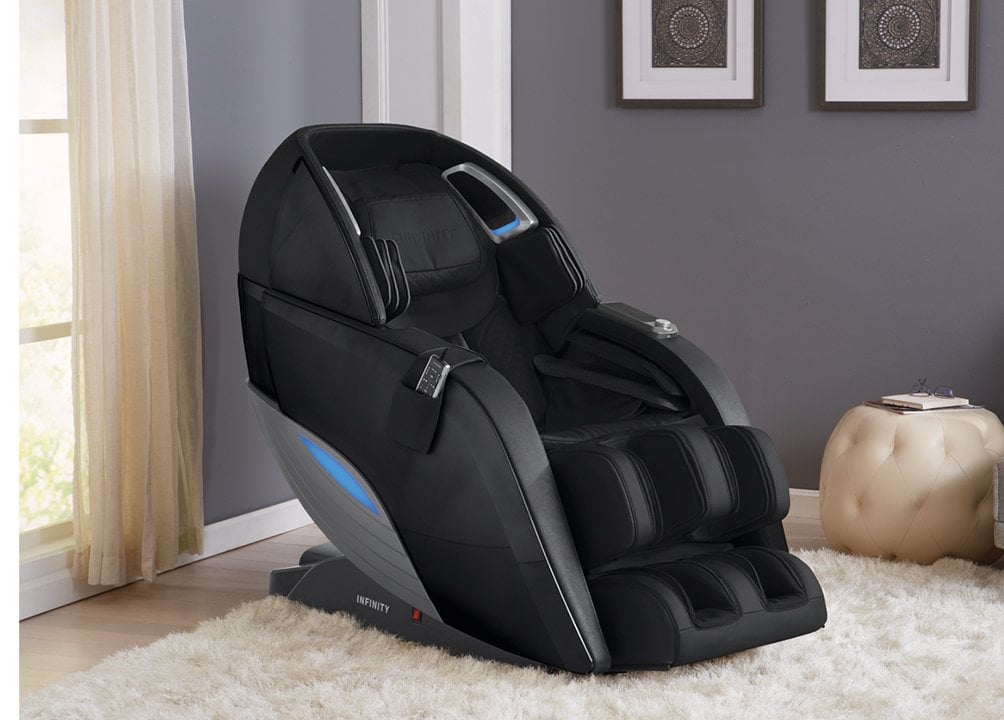 Brookstone BK-450 offers an affordable massage chair without compromising quality. It is built with a 3D L-track mechanism, 4 auto programs to choose from, and 7 massage techniques so you can customize your massage to your preference. It also provides total-body relaxation with lumbar heat therapy, foot rollers, and back-scanning technology. Perfect for unwinding after a day at the gym.
Conclusion
Remember that not all massage chairs are created equal, so it is important to consider the features that are important to you before making a purchase. In addition, reading the reviews of different massage chairs can help you get an idea of other people's first-hand experiences. Finally, remember to take care of your body and give it the relaxation it deserves after working out to help relieve muscle pain and soreness!
Filters