4 Great Reasons to Buy from US
Synca Made in Japan 4D Massage Chair w/ Touchscreen JP970
Save

$1,000.00
Save

$1,000.00
Original price
$5,999.99
-
Original price
$5,999.99
FREE!! 5 Year Warranty

No Sales Tax Outside WY

Ships Fedex/UPS

Ships From US Warehouse

We are Veteran Owned!
Synca JP970 Massage Chair
The JP970 by Synca Wellness will help you find a little rest and relaxation through your day by utilizing a multi-layer and multi-sensor body scan to accurately map the length, curvature, and depth of your back while also measuring the height, depth, and shape of your shoulders. Most massage chairs will take a simple measurement of your backs length without understanding the depth and contours of your unique body leading to a mediocre massage.
The JP970s advanced body scan technology helps ensure Synca's industry-leading 4D robotic deep tissue massage technology delivers a massage that is perfectly mapped to your back, this scan custom tailors your massage to you each time you enjoy your chair. The JP970 has specially designed kneading and deep shiatsu massage movements that focus on your neck and shoulders that press, massage, and release muscle tension and stiffness.
The JP970 is easy to use because of its intuitive touchscreen controller letting you focus on sitting back and relaxing while the chair does all the work.
---
Experience Wellness with these Features
36 Aircell Massage

Heat (Foot and Back)

Adjustable Massage Strength by Region (foot, back, shoulder, arm, pelvis)

4D Ultra Premium Massage Robot

35 Massage Techniques

12 Levels of Strength Selection

21 Auto Courses

Touchscreen Controller w/ Memory
21 Auto-courses to find your ideal massage
"21 Auto-courses to find your ideal massage" meet your massage therapy needs with expertly crafted master courses using 81 unique massage techniques.
Fully enjoy the highest levels of comfort and indulge in 4 types of 30 min. deluxe long course and 17 types of 16 min. body part and focused selective courses.
These 12 courses are equipped with 6 types of targeted body part massage, 3 types of deep core kneading techniques, and 3 types of body part stretch.


World most advanced 4D deep tissue massage robot
"World most advanced 4D deep tissue massage robot" and "The World's most advanced dual layer body scan system" The industry-leading 3D depth system (approximately 5 in) targets the deeper layers of muscles located in the back, neck, and lumbar. The dual sensors optimize the length and depth of the massage to ensure optimal performance.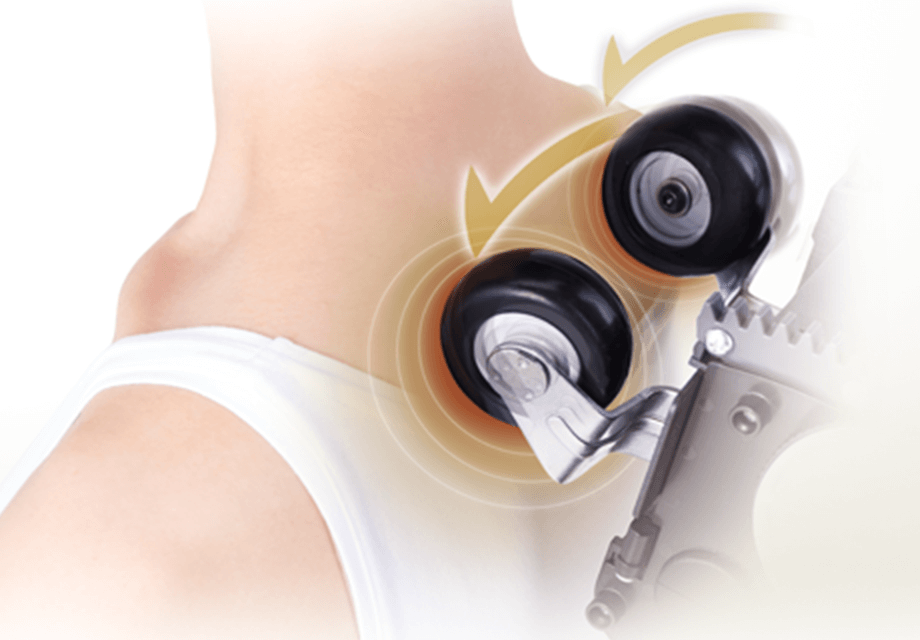 Nearly 5 inches of 3D back massage strength adjustment.
5 inches of 3D allows users to dial-up, or down, the pressure on their back.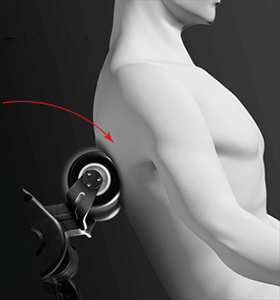 Back
Auto-detect the spinal line
▼
Optimize the "depth" of the massage

Shoulder
Auto-detect the shoulder position
▼
Optimize the "points" of the massage

Power stretch
"Power stretch" increases the effectiveness of the massage.
A new way to loosen and relax muscles.
Multiple new stretches that increase massage effectiveness by targeting hard to massage muscles groups.
"Triple-mode enhanced air compression system" stimulates blood flow and supports vascular health by compressing and pulling on fluid retention areas in the body.
The enhanced "variable compression system" allows the user to easily control the rate of compression in the desired region.
This allows you to chose from 3 different types of compression massage modes "Hand kneading mode", "Pulse mode" and " Normal mode"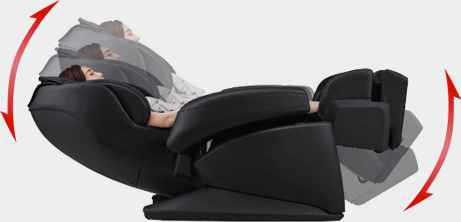 Near 180 degree flat recline
"Near 180 degree flat recline" is a high-quality sleeping position allowing the user to stretch out nearly flat opening all the tissues of the back to massage optimizing the feeling of comfort and massage.
An almost flat sleeping position is achieved due to the unique frame structure. Now during a longer massage you can relax and allow your body tissues to open freely allowing the massage robot to more effectively massage the affected area.
Dual heaters
"Dual heaters" warm up around erector spinae muscles and soles of the feet.
The dual heater work to stimulate blood flow and bring blood to the surface of the skin where the massage rollers can stimulate the tissue to enhance circulation. These heater also loosen stiff muscle enabling a more effective massage.
* Heaters can also be used independently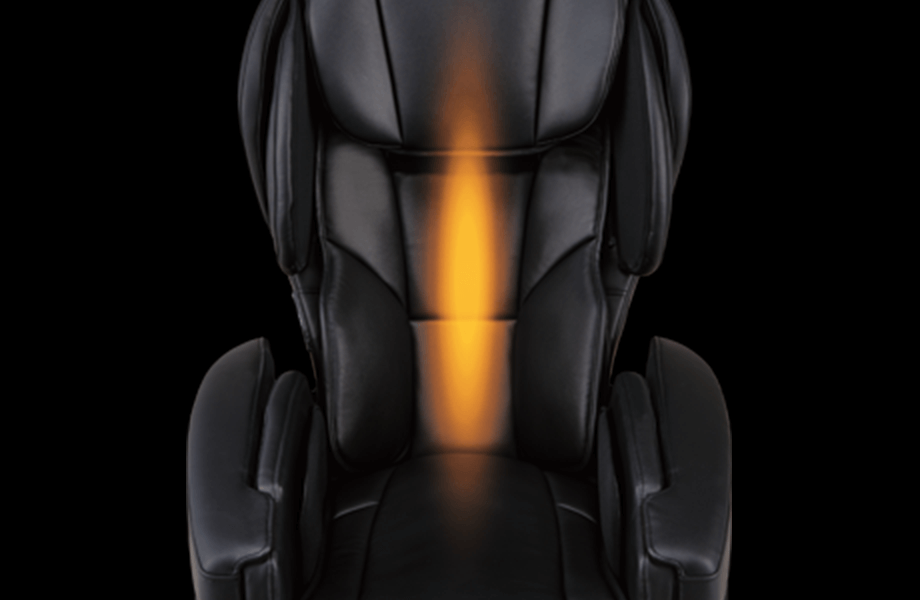 Back heater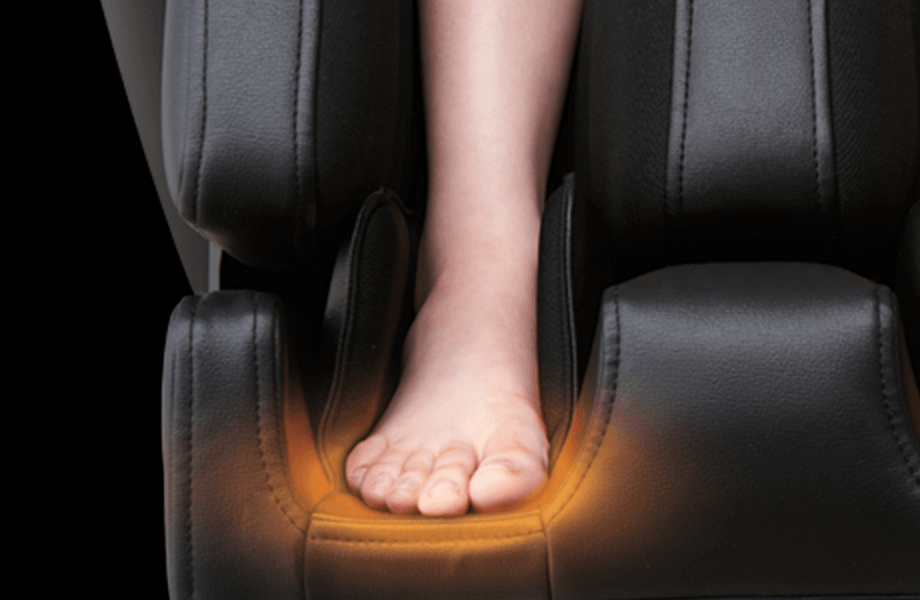 Foot heater
Full-color easy to use touchscreen remote control features vivid colors and an easy to use interface.